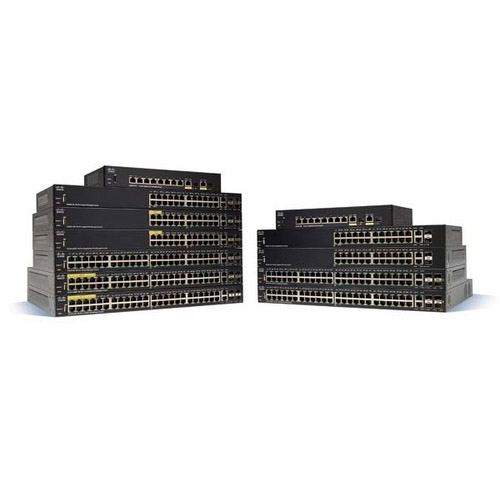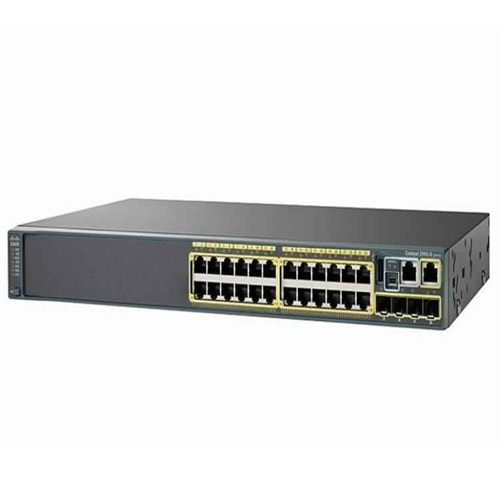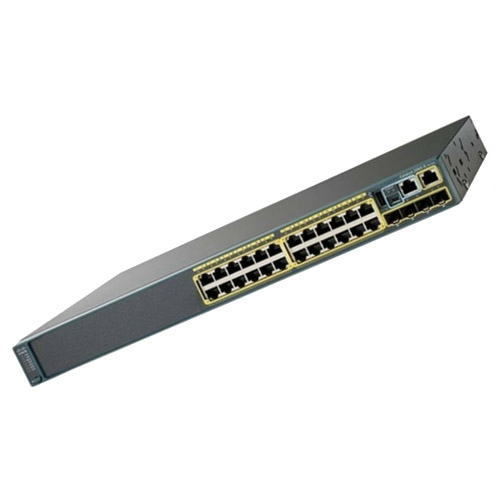 WS-C2960X-24PS-L
Cisco catalyst 2960X-24PS-L LAN Base stackable Layer 2 switch is comprised of 24 * 10/100/1000 Ethernet ports with POE+ and 4 * 1G SFP uplink interfaces. The industry standard IEEE802.3at PoE+ provides up to 30W per port.
Description
Additional information
specification
Description
WS-C2960X-24PS-L – Cisco 2960X
The Cisco Catalyst 2960X-24PS-L is a solid mid-range option for expanding your Cisco 2960X switch network affordably, but without sacrificing features.  This Layer 2 switch has 24 Gigabit switch ports featuring PoE+ power from a supply of 370W, and four Gigabit SFP ports provide your uplinks.
To minimize ongoing upgrade costs, the WS-C2960X-24PS-L is easily stackable, with FlexStack-Plus support.  FlexStack allows up to eight Catalysts to be linked together simply and quickly, to create a single logical switch with up to 80Gbps in throughput.  This simple scalability allows a Catalyst-based network to quickly grow alongside its office.
Plus, a full range of Cisco automation and optimization systems minimize ongoing administration.  Power usage is automatically conserved, while NetFlow-Lite systems use predictive power to report on and optimize packet flow.  Advanced QoS features ensure VoIP is a high priority.  Throughout, your Catalyst 2960X-24PS-L self-monitors and self-reports diagnostics and security incidents.
A Cisco WS-C2960X-24PS-L includes:
24 10/100/1000BaseT Gigabit ports
PoE+ power supply up to 370W
4 Gigabit-ready SFP ports
Layer 2- Advanced
USB and Ethernet ports for direct console connections
Cisco LAN Base Software
Dynamic VLAN Assignment Supported
FlexStack-Plus scalable support for up to 80Gbps in throughput
Web GUI or CLI interface options
NetFlow-Lite support brings advanced packet oversight
Automated security, diagnostic, and power-savings, and QOS systems
Best-in-Class Cisco security and authentication options
Cisco Enhanced Limited Lifetime Warranty
90 Days SMARTnet service
Extended service plans available
Cisco Part Number: WS-C2960X-24PS-L
Table 1 shows the Quick Spec of the Cisco 2960X-24PS-L switch.
| | |
| --- | --- |
| Product Code | WS-C2960X-24PS-L |
| Enclosure Type | Rack-mountable - 1U |
| Feature Set | LAN Base |
| Uplink Interfaces | 4 x 1G SFP |
| Ports | 24 x Ethernet 10/100/1000 Gigabit ports |
| Available PoE Power | 370W |
| Maximum stacking number | 8 |
| Stack bandwidth | 80G |
| Forwarding Bandwidth | 108Gbps |
| Switching Bandwidth | 216Gbps |
| RAM | 512MB |
| Flash Memory | 128MB |
| Dimensions | 44.5 cm x 36.8 cm x 4.5 cm |
| Package Weight | 10.65 Kg |